Veterinary Care for Bulldogs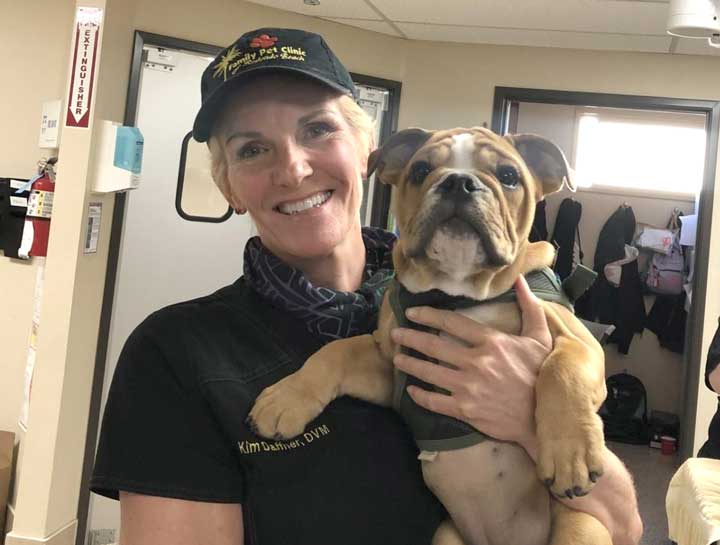 October 30, 2022
The Family Pet Clinic of Redondo Beach has expertise in providing the best possible care for bulldog breeds. Being an AAHA-certified and Fear-free practicing veterinary clinic, we continually invest in our team of veterinarians and our state-of-the-art facility in order to deliver a 5-star customer experience.
Below are some of our Yelp reviews that we would like to share with our community as they exemplify all that we strive for:
"I have been working with dogs all my life, a prior K9 policeman, and have been a parent to dogs nonstop for 40 years. Veterinary practice is all over the board with varied degrees of care and knowledge. I have seen so many vets treat dogs and cats like ATM machines, looking for ways to enrich the profit of the clinic as their first priority. My local vet gave my 13-year-old dog 3 vaccines which within 24 hours killed him. That was the last straw. I made an effort to research vets who specialize in bulldogs and pets with anxiety.
I am so glad I discovered the knowledgeable and smart, I mean REAL SMART, Dr. Daffner, and the wonderful caring staff at Family Pet Clinic. They specialize in bulldog care. I was impressed coming here, the front office staff are so courteous and efficient. If your appointment is at 2 pm you are seen soon afterwards and not sitting waiting 30 to 45 minutes. The office pros there keep things moving.
Our 12-year-old French Bulldog, Toby is extremely anxious, so much that he will pant to the point he drives up his internal temperature and collapses, he had a swollen testicle and needed a dental exam and has a small heart murmur as well. To make him well again involved putting him under anesthesia, a risky order with short-nosed bully dogs, especially so with his list of complications. My last dental and anesthesia was performed by the Lead vet and owner of my local animal clinic. He mentioned how hard it was for him, and said he was sweating it out through the whole procedure. So what was I to do next time?
Dr. Daffner and crew came to Toby's rescue. She was methodical in explaining how she uses anesthesia and what is done at every step of the operation. It was so detailed I felt I just got trained in how to do it myself. When the operation day arrived I dropped Toby off in the morning and soon I was called by Dr., Daffner to give me updates on what they were doing to keep him comfortable prior to putting him under anesthesia. Dr. Daffner called me throughout the operation to keep me updated and finally to let me know it all went well, with no issues, and to pick up Toby at 3 p.m.
We have 4 French Bulldogs and Family Pet Clinic has earned my trust. They are the very best. This involves a drive on the 405 from Long Beach to Redondo Beach, well worth it to keep my bulldogs happy. I am transferring all care of my Frenchies from my local clinic to the Family Pet Clinic.
Thanks to all the caring staff that gave good health back to Toby. It's so good to see him with high energy and bouncing around the house again like once before".
Be sure to check out our other informative posts on veterinary care for bulldogs:
Brachycephalic Airway Surgical Correction
Brachycephalic Airway Obstruction Syndrome in Flat-Faced Dogs

Best Video EVER!
Everyone with brachycephalic pets (French and English Bulldogs in particular) please watch this video and meet Tortellino who is one of Family Pet Clinic's favorite patients! I was very honored to have had the opportunity to perform airway corrective surgery on Tortellino last year. Thank you Tony for posting such an informative, adorable, accurate, and loving video of this complex and potentially life-threatening (yet surgically correctable) syndrome.
I perform airway corrective surgeries on brachycephalic breeds a few days each week. I am always so rewarded when my patient wakes up from surgery to a "new and improved" world...