Brachycephalic Obstructive Airway Syndrome (BOAS)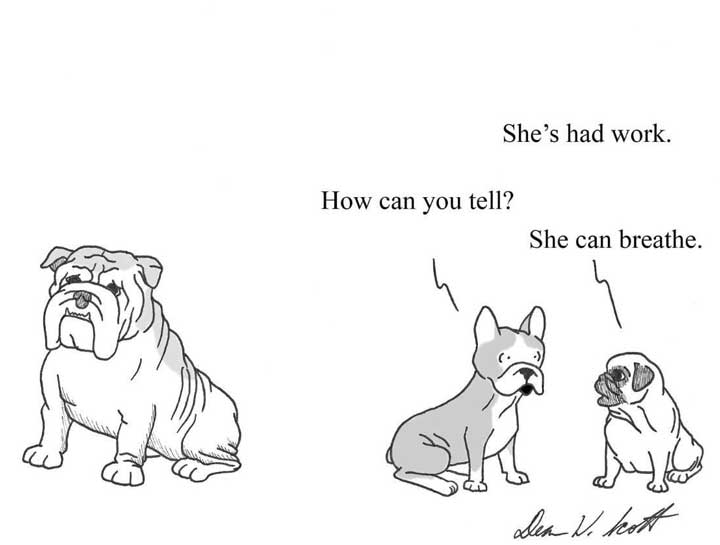 October 5, 2022
I wish this were just a funny cartoon. It's not funny at all. This cartoon depicts the sad state of affairs whereby the average bulldog has to live out his or her life.
I am seeing increasingly high numbers of both French and English bulldogs for consults for "Brachycephalic Obstructive Airway Syndrome" (BOAS). Every single day I consult with a few new clients--- some driving from San Diego, Las Vegas, Oregon--- to see if I can help their dog breathe.
Many of these dogs have lived lives having to sleep with their head propped up... some have already suffered heat stroke... some have been vomiting and regurgitating so often that they have been hospitalized for aspiration pneumonia.
I repair brachycephalic airways. I am considered an expert. I am not board-certified, but I am very good at what I do, and I love the results. I change lives virtually on a daily basis. I open up the nostrils (stenotic nares) and I resect back overlong soft palates.
Please refer to the following diagram and look through the links on this website:
https://www.vet.cam.ac.uk/boas/about-boas/pathophysiology
I have many before and after photos of my surgeries already posted on our clinic website and on this Facebook page.
Please let me know if you need help with your bulldog or other brachycephalic breed. (Pug, Boston Terrier, Shih Tzu, Pekingese)
Sincerely,
Dr. Kimberly Daffner
(310) 376-0072